Helmholtz-Allianz für Astroteilchenphysik (HAP)
Die Themen der Helmholtz-Allianz für Astroteilchenphysik umfassen das Hochenergie-Universum, das Dunkle Universum und die Querschnittsaktivitäten Astroteilchentheorie und Technologieentwicklung. Die Allianz führt die Helmholtz-Zentren KIT und DESY, 15 deutschen Hochschulen, und 6 assoziierten Partner ins Deutschland und in der Welt verteilten Forschungsarbeiten zu diesen Themen zusammen.
HAP daily news
How Big are Galaxies? - Galaxy Size Comparison Charts by Astrophysicist Rhys Taylor

Arecibo astrophysicist Rhys Taylor selected 25 galaxies and illustrated the relative sizes beautifully using images made from NASA and ESA observation missions, including a rendering of our own ordinary little Milky Way at the center for comparison.

Also check out a zoomable chart of the giant galaxy IC 1101, the largest known galaxy — created by scaling up an image of M87, another supersized elliptical galaxy that just happens to be considerably closer to our own and has had clearer images taken of it. But the size is right — IC 1101 really is a beastly galaxy, at an estimated 5.5 billion light-years wide, over 50 Milky Ways could fit across it!

There will be a separate embedded post of the zoomable IC 1101 galaxy chart.
"The Greeks had a simple and elegant formula for the universe: just earth, fire, wind, and water. Turns out there's more to it than that – a lot more. Visible matter (and that goes beyond the four Greek elements) comprises only 4% of the universe. CERN scientist James Gillies tells us what accounts for the remaining 96% (dark matter and dark energy) and how we might go about detecting it."

– Dark matter: The matter we can't see
http://youtu.be/HneiEA1B8ks

– full TED-Ed lesson:
http://ed.ted.com/lessons/dark-matter-the-matter-we-can-t-see-james-gillies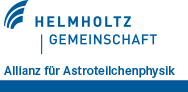 Helmholtz-Allianz für Astroteilchenphysik
Dr. Astrid Chantelauze-Reichert
Karlsruher Institut für Technologie
Institut für Kernphysik
Postfach 3640
76021 Karlsruhe
Tel.: +49 721 608 29172
astrid.chantelauze(at)kit.edu
www.hap-astroteilchen.de
www.hap-astroparticle.org
HAP-RSS
Pinterest
6 ways to study neutrinos: Neutrinos from nuclear reactors; Neutrinos from accelerators; Studying neutrinos without neutrinos (neutrinoless double beta decay); Geoneutrinos; Solar neutrinos; Cosmic neutrinos. -- How do you solve a puzzle like neutrinos? http://www.symmetrymagazine.org/article/june-2015/how-do-you-solve-a-puzzle-like-neutrinos (credit: Artwork by Sandbox Studio, Chicago with Ana Kova)
This is what happens when you have together a science festival, an enthusiastic student touring the KATRIN experiment, the particle zoo and a journalist from "Die Welt"! -- Geisterteilchenseher [DE] http://www.welt.de/…/article14365…/Geisterteilchenseher.html -- The KArlsruhe TRItium Neutrino (KATRIN) experiment http://www.katrin.kit.edu/ -- The Particle Zoo http://www.particlezoo.net/
Between at KIT, it was the 1-year-anniversary of the Helmholtz Young Investigator group of Kathrin Valerius on "Analysis of KATRIN data to measure the neutrino mass and search for new physics" ‪#‎KIT‬ ‪#‎KATRIN‬ ‪#‎neutrinos‬ ‪#‎HAP‬